All that turkey leftover and you really can't eat another turkey sandwich. Here are some ideas of what to do with those leftovers. Yum!
Turkey Shepherd's Pie by Katie Lee
http://www.recipe4living.com/recipes/turkey_shepherd_s_pie_by_katie_lee.htm
Easy Turkey Tetrazzini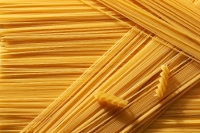 http://www.recipelion.com/Turkey-Recipes/Easy-Turkey-Tetrazzini/ct/1
Need a recipe for all of those leftovers? Leftover Turkey Hash is the king of easy potato recipes and is good for any meal. Enjoy with two eggs on top and dig in.
Ingredients
2 tablespoons

melted butter or turkey fat

1

onion, thinly sliced

1

/

2

cup

celery, diced

3 cups

cooked turkey, diced

2 tablespoons

turkey fat or butter

3 tablespoons

flour

2

1

/

2

cups

water

1

/

2

teaspoon

summer savory

1

/

2

teaspoon

salt

1

/

2

teaspoon

pepper

1

/

4

cup

light cream

2 cups

flour

1 tablespoon

baking powder

1 teaspoon

salt

3

/

4

cup

light cream or milk

2

eggs, beaten
Instructions
Heat in frying pan 2-3 Tbsp melted butter or turkey or chicken fat. Add thinly sliced onion and diced celery. Heat 5-8 minutes over low heat, stirring often.

Add 2-3 cups cooked turkey. Cook 5 minutes over low heat.

Brown the chicken fat and flour well before adding water. Add savory, salt and pepper to taste.

When sauce is smooth and creamy, add 1/4 cup cream and any remaining turkey or chicken gravy. Pour over turkey. Simmer 15 minutes, then serve with hot biscuits and pickled beets.
Read more at
http://www.recipelion.com/Turkey-Recipes/Leftover-Turkey-Hash/ct/1#SmFe3PIIOEKGXW1a.99
Turkey Divan with Broccoli
Ingredients
2

10 oz. packages frozen broccoli

1 cup

grated Parmesan cheese

8

large slices cooked turkey (White is best)

2 cups

medium white sauce

1

/

4

teaspoon

ground nutmeg

1 tablespoon

Worcestershire sauce

1

/

2

cup

mayonnaise

1

/

2

cup

heavy cream, whipped
Instructions
Cook broccoli until just tender. Place in greased 9 x 9 x 2-inch baking dish or eight individual casseroles. Sprinkle with 1/2 cup Parmesan cheese. Place turkey slices on top of broccoli. Combine mayonnaise, Worcestershire sauce, whipped cream, nutmeg, and white sauce in double boiler and blend thoroughly with rubber spatula while heating. Pour hot sauce over turkey, sprinkle with cheese, and broil slowly for about ten minutes, until bubbling and browned. Serve with hot rolls, molded fruit salad and pumpkin pie.

Read more at

http://www.recipelion.com/Turkey-Recipes/Turkey-Divan-with-Broccoli/ct/1#q3rK8qgkHJtgZ0gR.99

Thanksgiving Leftover Ideas
http://www.fortheloveofcooking.net/2013/11/thanksgiving-leftover-ideas.html
Leftover Turkey Crescent Bake
http://www.pillsbury.com/recipes/leftover-turkey-crescent-bake/7fceeb23-b6dd-48d7-9f02-c6add4b06854
Turkey, Ham, and Swiss Casserole
http://southernfood.about.com/od/turkeycasserole/r/r81130a.htm
Dinner Diva
Turkey Carcass Soup
http://savingdinner.com/holiday/turkey-carcass-soup/
LEFTOVER HOLIDAY TURKEY GUMBO
http://www.gumbopages.com/food/soups/turk-gumbo.html
Turkey-Vegetable-Barley Soup
http://www.mealplanningmaven.com/index.php?option=com_content&view=article&id=429:crockpot-chicken-fajita-soup&catid=48:soups-on&Itemid=73
I know, this is ham and not turkey. Some people have ham on Thanksgiving instead of turkey, so I'm putting this on here.
View recipe:
http://www.southyourmouth.com/2011/12/cajun-ham-bean-soup.html
Thanksgiving Leftovers Casserole Recipe - Kraft Recipes
http://www.kraftrecipes.com/recipes/thanksgiving-leftovers-casserole-150207.aspx